US
China is turning its anti-corruption fire on banks at a risky time for the economy | CNN Business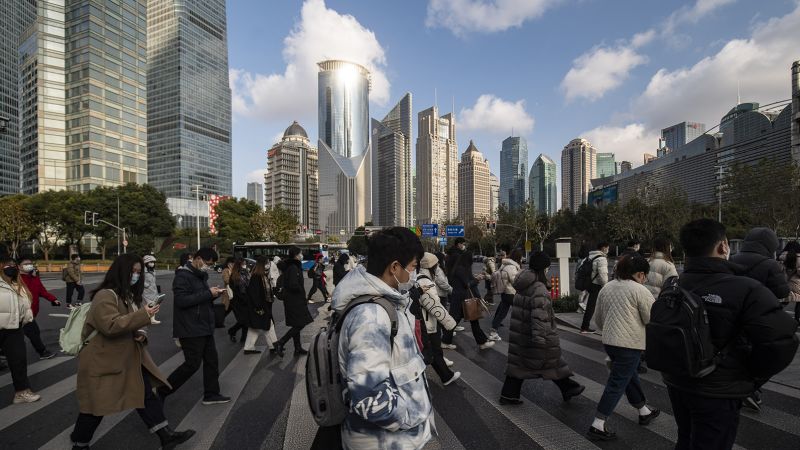 Hong Kong
CNN
 — 

China's banks and insurers have become the latest focus of a sweeping anti-corruption crackdown that is ensnaring top officials and risks rattling the already fragile nerves of investors and entrepreneurs.
The Communist Party's top anti-graft agency, the Central Commission for Discipline Inspection (CCDI), has investigated more than a dozen senior executives at the country's most important financial institutions so far this year, according to a CNN analysis of statements posted on the CCDI's website.
Three big names at the very top of China's financial system have been probed or charged, according to the CCDI, including Li Xiaopeng, the former chairman of China Everbright Group — one of the country's oldest and largest state-owned financial conglomerates.
Li is suspected of "serious violations of law and discipline" and is under investigation, the commission said Wednesday in a brief statement.
Everbright said in a statement that it "fully supports" the party's decision and will "fully cooperate" with the investigation into Li, who chaired the bank for four years until he resigned in March 2022.
Last Friday, authorities opened a similar probe into Liu Liange, former chairman of state-owned Bank of China, the country's fourth largest lender. Liu resigned last month citing "work adjustments," according to a filing by the bank.
And in January, Wang Bin, who headed state-owned China Life Insurance from 2018 to early 2022, was charged by national prosecutors with taking bribes and hiding overseas savings. He was first probed by the CCDI in January 2022.
Analysts say the dragnet may have also implicated Bao Fan, a star investment banker and noted name in the tech sector, who went missing in February.
It appears the crackdown may intensify, they say.
Last week, the CCDI announced it would inspect more than 30 major state-owned firms. They include financial giants such as China Investment Corp, the nation's sovereign wealth fund, China Development Bank, which provides financing for key government projects, and Agricultural Bank of China, another large state-controlled lender.
It comes just months after Xi Jinping secured a historic third term in October as China's leader and stacked his top team with his Communist Party loyalists. Soon after he moved to consolidate the party's hold over the economy.
"The current financial crackdown is a new wave of Xi Jinping's anti-corruption campaign against the financial sector for consolidation of his power," said Chongyi Feng, an associate professor in China Studies at the University of Technology Sydney.
The anti-corruption crackdown is Xi's signature campaign. It has swept across the ruling Communist Party, the government, the military and state-owned companies in waves since 2012, when Xi took office. Millions of officials have been punished.
This year, the crackdown has focused on the country's sprawling financial industry. Feng said there may be two reasons for this "escalation."
"The finance [industry] is the last of the three key areas for Xi to assert complete control after the military and the [internal] security apparatus," Feng said, adding that it is the "money bags" of the party.
Xi also needs to centralize control over the sector in order to deal with "the deepening economic and financial crisis in China" and to prepare for a "financial war" with the United States, he added.
Beijing is contending with an array of domestic and global challenges. The housing market is suffering its worst downturn on record. Youth unemployment remains high. Local governments are struggling with huge debt loads and cutting benefits.
And relations between the United States and China are at their lowest point in decades, leading to escalating tensions in technology and investment.
Investing in China has become increasingly precarious as the climate for private business has deteriorated, and foreign companies have been caught in the crossfires of geopolitical tension.
As the economy tries to recover, Beijing is under pressure to revive growth and create jobs for millions. Top economic officials have been trying to lift business confidence by reassuring private industry and rolling out the welcome wagon for global CEOs.
But the deepening crackdown on the vast financial sector could rattle investors. China's banks and insurers have assets worth $60 trillion, equivalent to 340% of the country's annual GDP, according to the most recent statistics from the People's Bank of China.
The disappearance of Bao, founder and CEO of China Renaissance, triggered a plunge in the value of the bank's stock. It has lost 27% since mid-February.
China's tech sector, meanwhile, is still nursing the bruises of its own run-in with Xi's ruling Communist Party, which wiped out hundreds of billions of dollars in market value. Shares of Alibaba are still down nearly 70% from their peak in late October in 2020.
"Xi's recent crackdown could hurt business sentiment among both domestic and foreign investors, many of whom are already nervous about the political environment," said Neil Thomas, fellow on Chinese politics at the Asia Society Policy Institute's Center for China Analysis.
"Xi wants to both revive the Chinese economy and enhance the party's leadership of private business. These goals are not mutually exclusive, but the latter is likely to constrain the former."
In 2017, the party launched a sweeping crackdown on risky lending by banks and shadow-lending institutions over concerns about systemic risks. Authorities tried to rein in the country's largest private conglomerates, such as Anbang, HNA, Wanda and Fosun Group, which had borrowed heavily to fuel aggressive global expansion.
The latest crackdown on banks and financial firms was reinforced in February by the anti-graft watchdog.
"It is necessary to punish harder … corruption in areas such as finance, state-owned enterprises, and grain purchases and sales, where power is concentrated, capital is intensive, and resources are rich," the CCDI said in a strongly worded commentary on its website.
Bankers must abandon their pretensions of being the "financial elite" and stop copying "Western ways," it added.
The article was published just days after Bao, the investment banker, was reported missing by his firm.
Xi "likely sees targeting high-level industry figures such as Bao Fan as an effective strategy to shock the entire financial sector into stronger and more proactive compliance with political dictates," Thomas added.
Bao was the latest high-profile tycoon to disappear. China Renaissance said in late February that Bao was "cooperating in an investigation" by certain authorities in the country. It gave no other details.
In 2020, real estate tycoon Ren Zhiqiang went missing for several months after he allegedly spoke out against Xi's handling of the coronavirus pandemic. Ren was eventually jailed for 18 years on corruption charges.
In 2017, insurance giant Anbang warned shareholders that its chairman, Wu Xiaohui, wouldn't be able to carry out his duties after he was reportedly detained by authorities as part of a government investigation. Anbang at the time cited "personal reasons" for his absence. Wu was eventually jailed for 18 years.
— CNN's Michelle Toh contributed reporting