US
Cineworld shares tank after Regal Cinemas owner ditches plans to sell US and UK businesses | CNN Business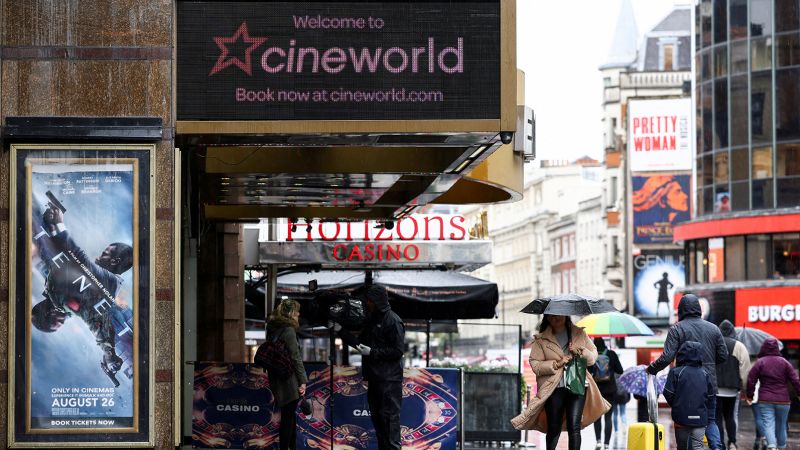 Shares in Cineworld plunged more than 30% Monday, hitting their lowest level since late August, after the owner of Regal Cinemas said it planned to terminate efforts to sell its US, UK and Irish businesses.
The world's second-largest movie theater chain also announced a debt restructuring plan with lenders to help it exit bankruptcy. The deal does not provide for any recovery of funds for shareholders, the company said in a statement.
"This agreement with our lenders represents a 'vote of confidence' in our business and significantly advances Cineworld towards achieving its long-term strategy in a changing entertainment environment," said CEO Mooky Greidinger.
Cineworld — which, like many cinema operators, was hit hard by the pandemic — filed for Chapter 11 bankruptcy protection in September. Over the past year, the company's shares have lost more than 93% of their value.
Under the proposed debt restructuring, lenders will reduce Cineworld's debt pile by $4.5 billion and receive equity in the reorganized group; provide $1.46 billion in new debt; and backstop a $800 million share issue.
The company said it had received offers for its businesses in other parts of the world and was considering them. In addition to the United States, the United Kingdom and Ireland, Cineworld operates cinemas in Poland, the Czech Republic, Slovakia, Hungary, Bulgaria, Romania and Israel.
It will abandon plans to sell its US, UK and Ireland arms unless it receives an "all-cash bid" significantly higher than the current value of the businesses.
The British company continues to operate its theaters around the world. After two rounds of closures in the United States, around 500 Cineworld theaters remain across the country.
The company said in February that it expected shareholders to be wiped out entirely by the bankruptcy process, even in the event of a sale of some of its businesses.
The pandemic forced movie theaters around the globe to close, dealing a devastating blow to Cineworld and others in the industry, and it is still affecting visitor numbers. Cineworld lost $2.7 billion in 2020 and another $566 million in 2021. It reported another loss, of $294 million, in the six months ending in June 2022.
Cinema operators are coming up with creative ways to claw back revenue. Cineworld's larger rival AMC Theaters announced recently that it would price tickets based on seat location, charging extra for more desirable seats in the middle of a theater.