US
Indiana and Idaho enact bans on gender-affirming care for transgender youth | CNN Politics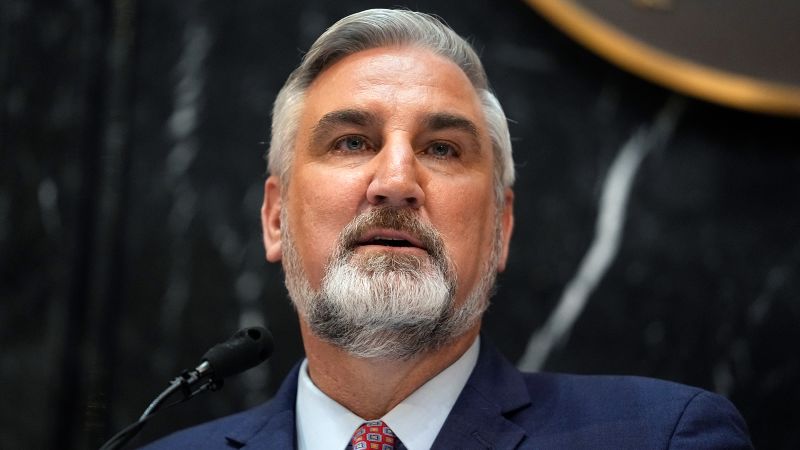 CNN
 — 

Indiana Republican Gov. Eric Holcomb signed a bill Wednesday to ban gender affirming care for minors in the state, following a growing trend of GOP-led states restricting transgender youth's access to such treatments after Idaho enacted similar legislation earlier in the week.
"Permanent gender-changing surgeries with lifelong impacts and medically prescribed preparation for such a transition should occur as an adult, not as a minor," Holcomb said in a statement upon signing Senate Bill 480 into law.
The legislation, which takes effect July 1, states that physicians or practitioners who provide minors with such care, including puberty blocking medication, hormone therapy and surgery intended to help transition genders, will be subject to discipline by their regulatory board.
Transgender youths' access to gender-affirming care – medically necessary, evidence-based care that uses a multidisciplinary approach to help a person transition from the gender they were designated at birth to the gender by which they want to be known – has become a flashpoint in red states across the country.
Some Republicans have expressed concern over long-term outcomes and whether children should be able to make such consequential decisions, even with parental consent. But major medical associations say that gender-affirming care is clinically appropriate for children and adults with gender dysphoria – a psychological distress that may result when a person's gender identity and sex assigned at birth do not align, according to the American Psychiatric Association.
Indiana's new legislation was met with immediate backlash by LGBTQ advocates.
The American Civil Liberties Union and local ACLU of Indiana sued the state Wednesday on behalf of four transgender youth and their families, as well as a doctor and healthcare clinic, alleging the new law violates their constitutional rights.
"Gender-affirming care is life-saving care for our clients," Ken Falk, legal director of the ACLU of Indiana, said in a statement. "No child should be cut off from the medical care they need or denied their fundamental right to be themselves — but this law would do both."
Holcomb's signing of SB 480 came a day after Idaho Republican Gov. Brad Little enacted similar legislation.
Under the Idaho law, which takes effect on January 1, 2024, physicians or practitioners who provide gender affirming care, including puberty blocking medications as well as surgeries, could face a $5,000 fine and a felony charge.
"In signing this bill, I recognize our society plays a role in protecting minors from surgeries or treatments that can irreversibly damage their healthy bodies. However, as policymakers we should take great caution whenever we consider allowing the government to interfere with loving parents and their decisions about what is best for their children," Little said in a statement to lawmakers.
Following Little's signing of the bill, the ACLU of Idaho said it planned to challenge the law.