US
Juul settles lawsuit with West Virginia for $7.9 million | CNN Business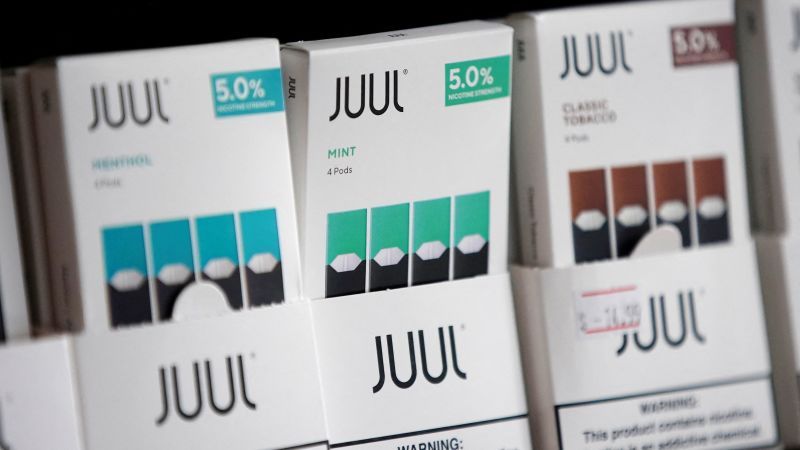 New York
CNN
 — 

West Virginia has settled a lawsuit with e-cigarette maker Juul Labs for a total of $7.9 million, the state's attorney general announced Monday.
The company was accused of unfair, deceptive acts or practices in the advertising and marketing of Juul products in the state, specifically targeting teenagers.
The lawsuit claimed Juul targeted these users through social media, influencer marketing and fashion bloggers and celebrities popular with teenagers.
"This settlement puts companies like Juul in check to not copy big tobacco's playbook and gear marketing strategies toward underage people," West Virginia Attorney General Patrick Morrisey said.
Morrisey said the court alleged Juul had "deceived consumers about its nicotine strength, misrepresented the nicotine equivalency of its products to traditional cigarettes and understated the risks of addiction that occur with such powerful levels of nicotine."
The AG said 14.3% of West Virginia high schoolers used e-cigarettes at least once in the past 30 days, higher than the national average of 13.2%.
In a statement, a Juul company spokesperson said the settlement is "another step in its ongoing commitment to resolve issues from the company's past."
Juul said terms of the agreement will go to "financial resources to further combat underage use and develop cessation programs" and is part of the current business practices implemented in 2019.
"With West Virginia having the highest cigarette-smoking rate in the U.S., we hope that some funds will go directly to interventions to reduce the use of combustible cigarettes and improve public health in the state," the company said. "Juul Labs remains focused on… its mission to transition adult smokers away from cigarettes – the number one cause of preventable death."
Last December, Juul Labs announced it settled more than 5,000 cases brought by approximately 10,000 plaintiffs in the US, resolving a substantial amount of legal issues for the company.
The company said the cases were variously personal injury, consumer class action, or from government entity and Native American tribe groups, but did not disclose the settlement amount.
That followed a September announcement that Juul would pay $438.5 million to 34 states and territories after a two-year investigation into its marketing and sales practices – like in West Virginia, Juul was charged with deliberately marketing its products to young people.
At one point, Juul was selling some of the most popular vapes in the US, especially the flavored products which the company stopped selling in 2019.
Last summer, the FDA ordered Juul products to be removed from the US market. A court temporarily blocked the FDA ban, so products are still for sale in the United States.