US
Starbucks fires Buffalo union worker who 'ignited a movement' to organize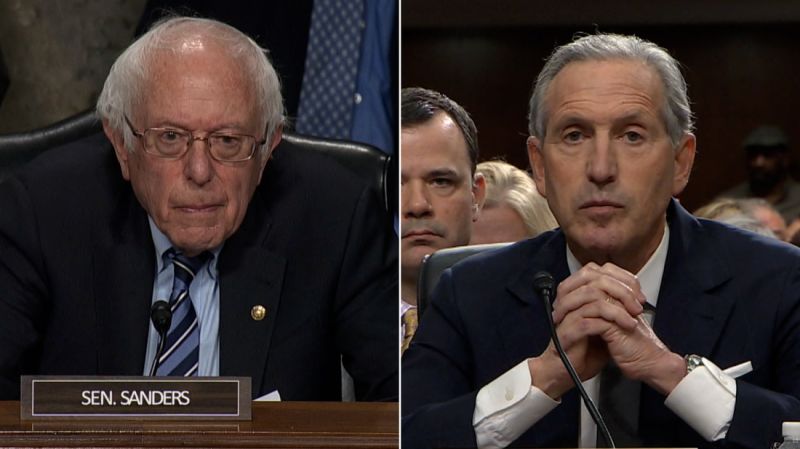 Starbucks has fired a Buffalo, New York, worker who "ignited a movement" from one of the first stores in the coffee chain to unionize, Starbucks Workers United said Friday.
The firing came the same week that former CEO Howard Schultz testified before Congress, where he was grilled by lawmakers for the company's labor practices and alleged union-busting.
Alexis Rizzo had been shift supervisor at the Genesee Street store in Buffalo for 7 years, the union said. That store was one of the first of two locations to officially win their union campaigns in January 2022 after the federal labor board certified its results. Rizzo was the worker who first contacted the union.
"This is retaliation at its worst," a statement from Starbucks Workers United said. The union noted two other employees were fired and a union leader was written up.
CNN is still seeking comment from Starbucks and Rizzo.
"Instead of negotiating a first union contract as required by law, Starbucks has chosen to double down on its illegal union-busting by firing Alexis Rizzo," Sen. Bernie Sanders tweeted Friday night, saying Rizzo "must be reinstated."
The pro-union senator placed pressure on Schultz's alleged union-busting tactics when he testified before the Senate's Committee on Health, Education, Labor & Pensions on Wednesday.
"Over the past 18 months, Starbucks has waged the most aggressive and illegal union-busting campaign in the modern history of our country," said Sanders.
Schultz noted during the hearing that the company's baristas earn an average of $17.50 an hour, which is more than the minimum wage in multiple states, "including, respectfully Chairman Sanders' [state]," referring to Vermont.
The three-time CEO asserted he prefers the company to have a direct relationship with its employees instead of going through a union, denying the company violated labor laws or that he was a union buster.
Nearly 300 locations have voted to join Starbucks Workers United. National Labor Relations Board judges found Starbucks has committed 130 labor violations and the agency has issued more than 70 official complaints against it. Starbucks has filed its own series of complaints against the union, and in his testimony before Congress, Schultz said the company considers these claims "allegations," not findings of fact.
Starbucks and the union have yet to sign a contract.
"What is outrageous to me is not only Starbucks' anti-union activities and their willingness to break the law, it is their calculated and intentional efforts to stall, stall and stall," Sanders said during the hearing.
In a statement, the union said, "Starbucks can fire our leaders, but they cannot stop our movement or stop the public from seeing the truth."