US
These are the only stocks that matter right now | CNN Business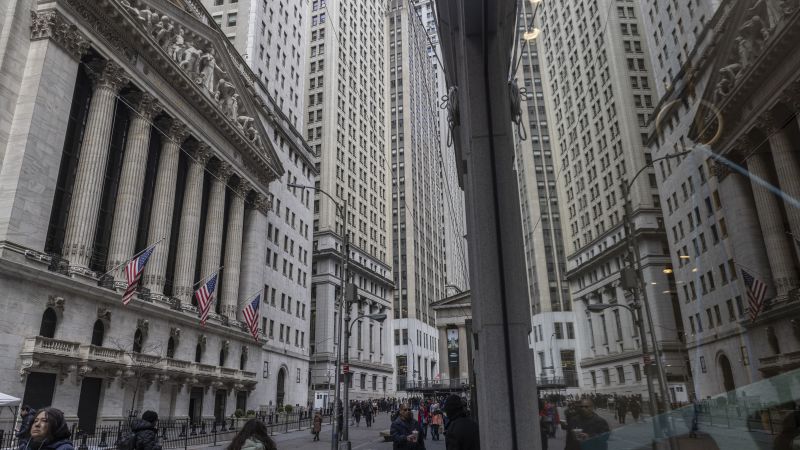 A version of this story first appeared in CNN Business' Before the Bell newsletter. Not a subscriber? You can sign up right here. You can listen to an audio version of the newsletter by clicking the same link.

New York
CNN
 — 

US stocks have been incredibly resilient this year. In the midst of a banking crisis, historically high interest rates, geopolitical turmoil and heightened recession forecasts, the S&P 500 is up nearly 7% year-to-date. But investors should be wary, warn analysts, because the churn under the surface shows noticeable weakness.
The rally that the S&P 500 has enjoyed since the beginning of the year has been driven by a small group of stocks — the market cap of the remaining 480 or so has basically remained the same.
"This is not a broad-based rally where all stocks go up but instead a rally concentrated in a few of the largest stocks by market cap, mainly tech names," Torsten Slok, chief economist at Apollo Global Management, told CNN.
Leading the way in growth are tech stocks like Apple

(AAPL), Microsoft

(MSFT), Alphabet

(GOOGL), Amazon

(AMZN), Tesla

(TSLA) and Meta

(FB).
The collapse of Silicon Valley Bank and stabilizing inflation rates have led to speculation that the Federal Reserve's painful interest rate hikes could soon come to an end.
That's been a boon to large cap tech stocks that are more sensitive to interest rates because they tend to borrow more than established companies and rely more on the prospect of future earnings.
But it also means that the current market rally is thin, as the major indexes outperform the average stock.
Nvidia

(NVDA), Berkshire Hathaway

(BRKA), Visa

(V), Exxon Mobil

(XOM), UnitedHealth Group

(UNH), Johnson & Johnson

(JNJ), Walmart

(WMT), JPMorgan Chase

(JPM), Procter & Gamble

(PG), Mastercard

(MA), Eli Lilly & Co

(LLY), Chevron

(CVX) and Home Depot

(HD) rounded out the list of stocks driving the vast majority of growth in the S&P 500.
"The implication for investors is that this market is not driven by broad-based higher growth expectations but instead by what has happened with rates, in particular after [Silicon Valley Bank] went under," said Slok.
Strong outperformance from the largest stocks often power indexes to rise, said Liz Ann Sonders, chief investment strategist at Schwab, in a note Tuesday. But healthy markets should be characterized by greater participation of the "soldiers" — the rest of the stocks, she said.
The flight to big tech is also a reaction to an increase in fear and uncertainty by traders, said Patrick Kaser, portfolio manager from Brandywine Global. Market moves this year have come with a "huge undercurrent of skepticism," Kaser told CNN. As the climate grows more unstable, investors are falling back on the large cap companies that they've come to rely on over the past few years.
"In these initial stages of uncertainty people do tend to go back to what worked in the last cycle," he said. "That's not necessarily a guarantee that those stocks will continue to grow, but it is that comfort food they want to go back to, the Teslas and the other stocks that made easy money in the past."
The tech sector was a popular safe haven for traders during the height of the pandemic. In 2021, the combined yearly revenue of Amazon, Apple, Alphabet, Microsoft and Facebook (now Meta) was $1.2 trillion — 25% higher than it was pre-Covid.
The bottom line: The market looks really expensive based on traditional valuation metrics, said Kaser. "We've had this weird pause over the last three weeks where analysts haven't been updating earnings estimates because of the banking turmoil. Those are undoubtedly going to come," he said.
"There's currently a false sense of security that things won't change, but a lot of the data under the surface is probably pointing towards higher odds of recession. This is not a favorable starting point for stocks as we think about the next few months."
The British pound plunged to record lows last year as investors panicked about budget plans by former Prime Minister Liz Truss, but just a few months later Truss is out of office and the pound is back.
Sterling hit its highest level against the US dollar in 10 months on Tuesday, topping $1.25 for the first time since June 2022, reports CNN's Julia Horowitz. The pound, which has advanced about 3.3% versus the greenback since the start of 2023, is currently the best-performing currency among developed economies.
So what sparked the rapid turnaround?
The UK currency has been boosted by indications the country's economy is holding up better than expected. Activity is now thought to have expanded 0.1% in the final three months of last year, up from a previous estimate of no growth at all. Gross domestic product growth in January has been estimated at 0.3%, after dropping 0.5% in December.
But it's not all smooth sailing for Brits. This resilience is bolstering expectations the Bank of England will maintain aggressive interest rate hikes despite concerns about the health of the global banking sector. Rising rates can boost the domestic currency because they help attract foreign investors searching for higher returns.
Inflation in the United Kingdom also jumped to an annual rate of 10.4% in February, underscoring the need for the Bank of England to maintain its tough approach.
Credit Suisse Chairman Axel Lehmann is sorry.
The longtime bank executive spent his Tuesday making amends with angry shareholders after the ailing Swiss lender required an emergency rescue last month that left investors nursing heavy losses.
"It is a sad day. For all of you, and for us," Lehmann told 1,748 shareholders at an ice hockey stadium in Zurich at the bank's last annual meeting as an independent company.
CEO Ulrich Körner echoed these remarks, reports CNN's Hanna Ziady. He said that he shared the disappointment of shareholders, clients, employees and the general public. "What has happened over the past few weeks will continue to affect me personally and many others for a long time to come," he added.
Demonstrators, meanwhile, gathered outside the venue, with some erecting a capsized boat to signify the bank's demise.
Still, Lehmann was narrowly re-elected as board chairman Tuesday. Shareholders also approved all other board directors standing for re-election.